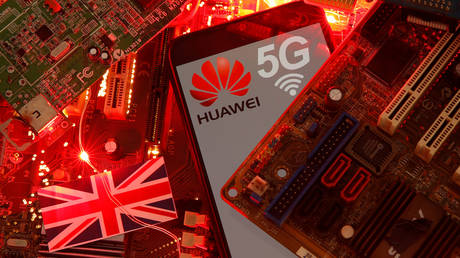 The UK government is set to terminate Chinese telecom Huawei from the country's 5G network over the next three years, according to British media, with PM Boris Johnson facing intense pressure from Washington – and his own party.
Johnson has instructed officials to devise a plan that would see Huawei completely phased out of the UK 5G network by 2023, the Telegraph reported on Friday. The move marks a sudden about-face for the PM, who previously backed the company's involvement in the network.
During a House of Commons session on Thursday, Johnson signaled a coming change to UK policy on the Chinese firm, telling Conservative MP Richard Drax that he is "absolutely right" to be concerned about Huawei and the "buying up of UK technology by countries that … may have ulterior motives."
We are certainly bringing forward measures to ensure that we protect our technological base and … you'll be hearing a lot more about that in the next few weeks.
Though the UK government previously labeled Huawei a "high risk vendor" over fears it Read Full Article
Source: RT Top New Stories