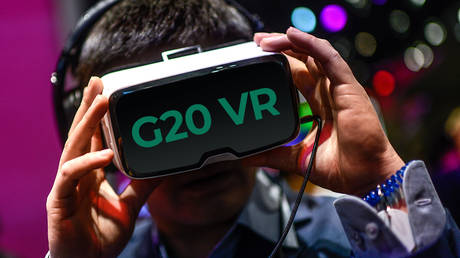 Heads of state will meet for a 'Virtual G20' summit in a few hours to work out a global response to the Covid-19 pandemic. It comes as markets crash, supply chains falter, and a worldwide economic downturn looms.
For the first time in history, there will be no government planes touching down in the host city, no police blocking roads, no hotels full to the brim with the bodyguards of world leaders — and no anti-globalist protesters lining the streets.
The question is — can an online meeting really work to deliver solutions?
Creative alternative
A traditional in-person summit was originally slated to be hosted by Saudi Arabia in November, but the suggestion that Riyadh could host an 'online' G20 — first proposed by Indian Prime Minister Narendra Modi — was quickly taken up by other world leaders as an innovative way to forge ahead with efforts to strategize amidst a worsening global disaster. Australian PM Scott Morrison praised Modi's plan as a "commendable initiative" as other leaders from the UK's Boris Johnson to Russia's Read Full Article
Source: RT Top New Stories