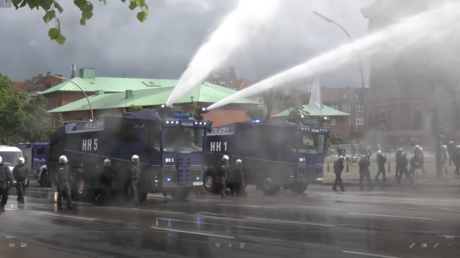 Police have deployed water cannons to break up a sparse crowd demonstrating against a sanctioned anti-lockdown rally in Hamburg, Germany, that saw dozens turn out while minding social distancing rules.
Police had to intervene after a small group of about 120 counter-protesters, many of them clad in black hoodies, repeatedly ignored police requests to stay clear of the 'Vigil for the Basic Law' rally against the lockdown measures on Saturday.
The counter-demonstrators, who showed up unannounced, lacking any permission from the authorities, argued that the anti-lockdown rally attracted many right-wing extremists. "Against conspiracy fantasies, anti-semites and the right-wing agenda," one of the posters read.
Hamburger Wetter: Polizei setzt Wasserwerfer ein, um Gegendekundgebung aufzulösen. Trotz eingehaltenem Mindestabstand pic.twitter.com/tvAnHlxSa4

— Erik Peter (@retep_kire) May 23, 2020
Although both rallies ended without a major incident, scuffles broke out between police and counter-protesters. A bottle was hurled at the officers from the crowd, policeRead Full Article
Source: RT Top New Stories